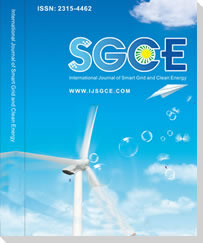 International Journal of Smart Grid and Clean Energy
International Journal of Smart Grid and Clean Energy (SGCE) aims to provide a high profile, leading edge forum for academic researchers, industrial professionals, engineers, consultants, managers, educators and policy makers working in the field to contribute and disseminate innovative new work on Smart Grid and Clean Energy. All papers will be blind reviewed and accepted papers will be published quarterly which is available online (
open access
) and in printed version.
Recently Published Papers



Acceleration in biodiesel production from palm oil process by high voltage electric field
Tharin Ratanabuntha , Kittipong Tonmitr , Amnart Suksri
This article aims to introduce an innovative method of acceleration in biodiesel production process. The biodiesel was produced from fatty acids, using palm oil that is widely used in food industry as a raw material. Methyl alcohol is a solvent with a molar ratio of 1:6 and using potassium hydroxide (KOH) as catalyst at 1 wt. %.......[Read more]
ISSN: 2315-4462 (Print)
ISSN: 2373-3594 (Online)
Frequency: 4 issues per year
Editor-in-Chief: Prof. Danny Sutanto
DOI: 10.12720/sgce
Indexed by: Scopus, EI (INSPEC, IET), EBSCO, Ulrich's Periodicals Directory, Google Scholar, Crossref, etc.

Prof. Danny Sutanto
University of Wollongong, Australia
I am very excited to serve as the first Editor-in-Chief of the Journal of Smart Grid and Clean Energy (SGCE)and hope that the publication can enrich the readers' experience .... [
Read More
]