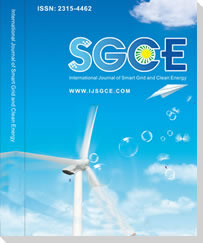 International Journal of Smart Grid and Clean Energy
International Journal of Smart Grid and Clean Energy (
IJSGCE
) aims to provide a high profile, leading edge forum for academic researchers, industrial professionals, engineers, consultants, managers, educators and policy makers working in the field to contribute and disseminate innovative new work on Smart Grid and Clean Energy. All papers will be blind reviewed and accepted papers will be published bimonthly which is available online (
open access
) and in printed version.
Recently Published Papers



Optimal operation of integrated electrical, district heating and natural gas system in wind dominated power system

Ana Turk, Qing Zeng, Qiuwei Wu, Arne Hejde Nielsen
Department of Electrical Engineering, Technical University of Denmark, 2800 Kongens Lyngby, Denmark

Nowadays, installed capacity of renewable energy sources is increasing at a high rate and even higher increase is expected in the future. In order to accommodate renewable energy sources, integration of gas, electricity and district heating network is a promising solution. This paper provides a coordinated operation and analysis of electricity, district heating and natural gas system with integrated wind farm, ....[

Read more

]
ISSN: 2315-4462 (Print)
ISSN: 2373-3594 (Online)
Abbreviated Title: Int. J Smart Grid Clean Energy
Frequency: 6 issues per year
Editor-in-Chief: Prof. Danny Sutanto
DOI: 10.12720/sgce
Indexed by: Scopus, CNKI, Google Scholar, Crossref, etc.

Prof. Danny Sutanto
University of Wollongong, Australia
I am very excited to serve as the first Editor-in-Chief of the Journal of Smart Grid and Clean Energy (SGCE)and hope that the publication can enrich the readers' experience .... [
Read More
]