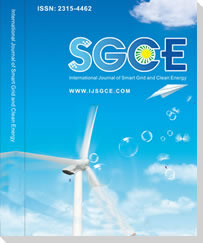 International Journal of Smart Grid and Clean Energy
International Journal of Smart Grid and Clean Energy (
IJSGCE
) aims to provide a high profile, leading edge forum for academic researchers, industrial professionals, engineers, consultants, managers, educators and policy makers working in the field to contribute and disseminate innovative new work on Smart Grid and Clean Energy. All papers will be blind reviewed and accepted papers will be published bimonthly which is available online (
open access
) and in printed version.
Recently Published Papers



Size of a distributed electrical storage for a rural area with a wind farm
J. Üpping , F. Bollhöfer, and K. Forche
University of Applied Sciences Ostwestfalen-Lippe, Institute Future Energy, Lemgo, Germany
Increasing the share of renewable energies in Germany is one of the current social challenges in the context of the energy transition. However, due to the volatility of renewable energy sources also storage systems are needed to avoid....[Read more]
ISSN: 2315-4462 (Print)
ISSN: 2373-3594 (Online)
Abbreviated Title: Int. J Smart Grid Clean Energy
Frequency: 6 issues per year
Editor-in-Chief: Prof. Danny Sutanto
DOI: 10.12720/sgce
Indexed by: Scopus, CNKI, Google Scholar, Crossref, etc.

Prof. Danny Sutanto
University of Wollongong, Australia
I am very excited to serve as the first Editor-in-Chief of the Journal of Smart Grid and Clean Energy (SGCE)and hope that the publication can enrich the readers' experience .... [
Read More
]