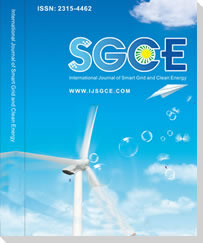 International Journal of Smart Grid and Clean Energy
International Journal of Smart Grid and Clean Energy (SGCE) aims to provide a high profile, leading edge forum for academic researchers, industrial professionals, engineers, consultants, managers, educators and policy makers working in the field to contribute and disseminate innovative new work on Smart Grid and Clean Energy. All papers will be blind reviewed and accepted papers will be published quarterly which is available online (
open access
) and in printed version.
Recently Published Papers



The study of shrimp drying by greenhouse drying combined with low humidity air
Natthawat Wisaiprom, Nat Kasayapanand, Naris Pratinthong, Roongrojana Songprakorp, Sirichai Thepa, Sindoem Deeto
TThe objective of this research was to examine the qualities of shrimps dried by a process of solar drying combined with low humidity air (45 %Rh, 30 oC). In the study, the shrimps were dried in solar dryer (greenhouse dryer) during daytime followed by drying in climate controlled system, which is coordinated with air conditioner, during the night. The low air temperature and relative humidity drying system consists of the humidity control unit (ultrasonic), air-conditioner, temperature and relative humidity sensors, heating coil, and microcontroller unit.,.......[Read more]
ISSN: 2315-4462 (Print)
ISSN: 2373-3594 (Online)
Frequency: 4 issues per year
Editor-in-Chief: Prof. Danny Sutanto
DOI: 10.12720/sgce
Indexed by: Scopus, EI (INSPEC, IET), EBSCO, Ulrich's Periodicals Directory, Google Scholar, Crossref, etc.

Prof. Danny Sutanto
University of Wollongong, Australia
I am very excited to serve as the first Editor-in-Chief of the Journal of Smart Grid and Clean Energy (SGCE)and hope that the publication can enrich the readers' experience .... [
Read More
]