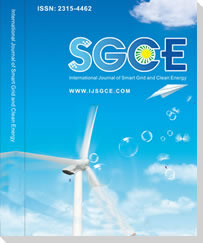 International Journal of Smart Grid and Clean Energy
International Journal of Smart Grid and Clean Energy (
IJSGCE
) aims to provide a high profile, leading edge forum for academic researchers, industrial professionals, engineers, consultants, managers, educators and policy makers working in the field to contribute and disseminate innovative new work on Smart Grid and Clean Energy. All papers will be blind reviewed and accepted papers will be published bimonthly which is available online (
open access
) and in printed version.
Recently Published Papers



Icing events assessment of a wind park in high wind speed
Jia Yi Jin , Torgeir Blæsterdalen, Muhammad S. Virk
Institute of Industrial Technology, Faculty of Enginnering Science& Technology, UiT-Tthe Arctic Univeristy of Norway
Cold regions have good wind energy potential due to low temperature and higher air density. Wind resource assessment at cold climate sites is challenging, but important, as wind energy projects development decisions are based on these estimated results. This paper describes a case study of one year (2014) icing event assessment using seasonal SCADA (Supervisory Control and Data Acquisition) data analysis and ...[Read more]
ISSN: 2315-4462 (Print)
ISSN: 2373-3594 (Online)
Abbreviated Title: Int. J Smart Grid Clean Energy
Frequency: 6 issues per year
Editor-in-Chief: Prof. Danny Sutanto
DOI: 10.12720/sgce
Indexed by: Scopus, CNKI, Google Scholar, Crossref, etc.

Prof. Danny Sutanto
University of Wollongong, Australia
I am very excited to serve as the first Editor-in-Chief of the Journal of Smart Grid and Clean Energy (SGCE)and hope that the publication can enrich the readers' experience .... [
Read More
]