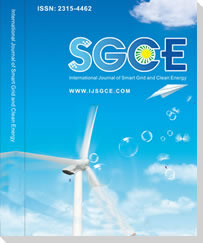 International Journal of Smart Grid and Clean Energy
International Journal of Smart Grid and Clean Energy (SGCE) aims to provide a high profile, leading edge forum for academic researchers, industrial professionals, engineers, consultants, managers, educators and policy makers working in the field to contribute and disseminate innovative new work on Smart Grid and Clean Energy. All papers will be blind reviewed and accepted papers will be published bimonthly which is available online (
open access
) and in printed version.
Recently Published Papers



Simultaneous changes of temperature and moisture of thermal conductivity of EPS insulation material and its impact on building energy performance
M. Khoukhi
College of Engineering, United Arab Emirates University, UAE
This paper investigates the simultaneous changes of combined temperature and moisture content on thermal conductivity, k-value, of polystyrene (EPS) building insulation material. In building energy analysis, the heat transfer through its envelope usually neglect the transport of moisture in the porous structure of the envelope and......[Read more]
ISSN: 2315-4462 (Print)
ISSN: 2373-3594 (Online)
Frequency: 6 issues per year
Editor-in-Chief: Prof. Danny Sutanto
DOI: 10.12720/sgce
Indexed by: Scopus, EI (INSPEC, IET), EBSCO, Ulrich's Periodicals Directory, Google Scholar, Crossref, etc.

Prof. Danny Sutanto
University of Wollongong, Australia
I am very excited to serve as the first Editor-in-Chief of the Journal of Smart Grid and Clean Energy (SGCE)and hope that the publication can enrich the readers' experience .... [
Read More
]